Well, Minecraft is a popular game and has blown up again in the gaming community and people really like this game a lot. From kids to adults, all kinds of people play this game and love it. Minecraft is so famous that it has sold more than 200 million units of this game since its release. And, this number is still growing as people are more and more downloading this game. So, it isn't anything strange that you have someone that loves this video game though many people don't find this game that interesting. Today, we will be talking about Minecraft gift ideas that you could give a Minecraft lover.
There are a vast amount of gifts that you can give someone whose favorite game is Minecraft. With that, you might not have any idea about this game. But, you won't have to worry as I have sorted out the best gifts you will find and talked about them so that you can properly understand if this gift will be good or not.
Basically, Minecraft is a strategy game where players can create their own world, build things, break things and have fun in the game. The builds players make can depend on their imagination. So, what they build might purely come from what they imagine.
Before you take a look at the list, I would highly encourage you to take a look at the details of the products before buying them as gifts. This way, you can properly understand whether that specific item will be good or not. So, if you are ready, let's take a look at the best Minecraft gift ideas for kids and adults.
Top 10 Minecraft Gift Ideas
Well, you can choose any gift that you like from this list. The list is pretty self-explanatory. But, if you want to gift something from this list, I would recommend you to read about the product from our website or the product page and get to know about it a little bit more before you buy it. It will really help you to choose if the product is good or not.
Enderman And Creeper Plushies
Enderman and Creeper are one of the many hostile mobs in the game. Basically, a mob in the game of Minecraft is some kind of animal or entity in the game. And, a hostile mob is the type of mobs that can hurt you. So, you get a basic idea about what a hostile mob is. In Minecraft. Unlike Enderman, a creeper is pretty well known for its ability to explode when near a player. This is why it is has a pretty bad name in the hostile mob community. It goes wherever you are and blows up. This can also happen when you are near an important build. Your build will get blown up instantly.
These plushies are really good for kids because they are about 7-12 inches in size. Neither too big nor small. And, they don't have any bad smells which are really good because kids can hug it tightly and sleep which won't cause breathing problems. Also, this plushy is really soft. Kids really love these plushies and it comes with 2 plushies. So, if you want you can surprise them twice and if not, you can give these to 2 kids and make both of them happy.
These plushies are really great compared to their prices. You are getting two plushies in one pack for under $20 which is a great price. Also, they aren't quite big or small in size. They are about 7″-10″ inches which is a perfect size for kids. And, the quality of these plushies is amazing. They are really soft and made out of totally safe materials with no chemicals that make them really enjoyable. That's because kids often don't want to play with plushies that have any kind of smell which kind of sucks. So, these plushies are going to be great for them and I hope that your kid likes them a lot.
Here's why you should buy the Enderman And Creeper Plushies
Brand
Minecraft (Official)
Color
Black, Green, White
Material
Indefinite
Dimension
3 x 3 x 14 inches
Weight
0.352 ounces
Features
– Really Soft
– Perfect in size
– No bad smells
– Two in one package
– Perfect for a Minecraft fan
– And more…
Rating
4.5 (1300+ – Amazon)
Disguise Minecraft Sword
Nothing is more enjoyable than doing what you love. So, let the person play Minecraft in real life and let him enjoy. What's more fun than seeing someone enjoy the gift you gave them. And, seeing them play with that item and spend their time is more satisfying than anything. Also, if you buy more than one or if someone else has it too, both of them can really enjoy this item. Real Minecraft lovers really like real-life Minecraft items especially kids. Kids can enjoy this game because there are no bad things in this game. It's just building and breaking. That's one reason it is so famous in the youth community. Kids really love this game. And, this Minecraft sword could be a really cool addition to a kid's toy collection.
This Minecraft sword looks like a real no enchantment Minecraft sword and it is safe to use because it's not made with any kind of rigid or strong material. It is made with hard plastic on the outside with foam inside. So, if kids get hit while playing, nothing will happen to them. It's also lightweight which makes it really easy to play with. Some parents really like this item because it keeps the kids off of the computer and gives them a chance to play and have fun in real life. This way, they can both entertain themselves and not get poor health.
If your child has a Minecraft diamond armor set or diamond gear and this sword, it will let him play like a real Minecraft gamer. He will enjoy his time and will spend more time with it which is a good thing for kids comparing the time that they usually waste behind computers. It will also help them learn new stuff as kids learn while playing. So, if you are thinking of buying this as a gift, it would be a really good choice.
Here's why you should get the Enderman And Creeper Plushies
Brand
Disguise
Color
Blue / White / Multicolor
Material
Plastic and Foam (Unofficial Info)
Dimension
10 x 1 x 21 inches
Weight
0.35 Ounces
Features
– Sturdy but harmless
– Perfect in size
– Great size, quality, and lightweight
– Keeps children's off of the computer
– And more…
Rating
4.5 (5600+ – Amazon)
Minecraft Customizable Shield
A shield is one of the most important items for a player that is just starting his or her world. A shield protects you from any attacks that you are getting from the front. So, it is pretty important and pretty well known among gamers in terms of staying safe and surviving for long enough. So, the person that you are gifting to must know about a shield and will love it if received as a gift. Kids can have fights with each other with this shield in a dramatic way where no one will be hurt. This will be both safe and insanely entertaining for both the viewer and the kids. So, a shield is really a great gift for kids.
The best thing about this shield is that it is customizable which means you can set different posters in front of this shield which will look even cooler. You can set any kinds of perfect-sized banners on the front side of this banner. So, kids can set up their favorite posters or banners and play with them. So, if you are thinking of buying this item, I would highly recommend you to take the sword as well as it will make a great combo and will be a great surprise for the kid you're gifting to. Just a small little tip for you. The shield also has customizable straps which will help it to fit kids with any hand size. This way, they will have full control over the shield and can have more fun while playing.
What's the best thing about this shield is that literally, no one hates this item. It is made out of sturdy plastic. So, the chances of it breaking while kids are playing with it are really low. What is the most exciting part about this item is that it has 0% of 1-star reviews on its Amazon product review page. So, you can literally assume that this item won't be bad at all.
Here's why you should get the Minecraft Customizable Shield
Brand
Mattel
Color
Colors and decorations vary
Material
Strong Plastic
Dimension
1.54 x 10.24 x 19 inches
Weight
1.5 pounds
Features
– Sturdy Plastic
– Customizable with custom designs
– Customizable straps
– Clip and Go System
– And more…
Rating
4.5 (110+ – Amazon)
Minecraft Lego Set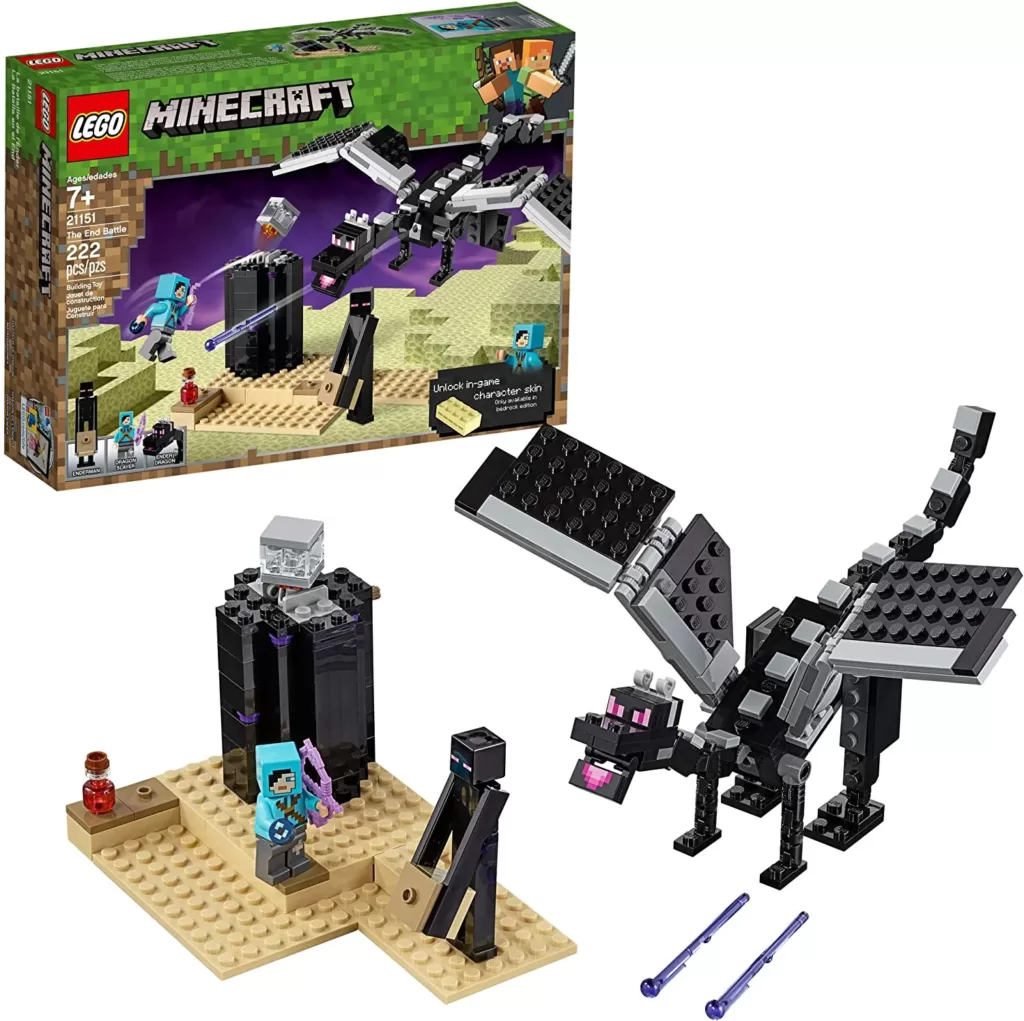 Well, I don't think there is any player that doesn't know about the Ender Dragon in Minecraft. It is one of the bosses that are in Minecraft and extremely hard to beat. To be specific, an Ender Dragon is a huge flying hostile boss mob or beast that you will find when you enter the end. It is known as a 'She' and it is the largest mob that naturally generates in the game. It is also known as the final boss of Minecraft though there is no end to Minecraft whatsoever. So, I think you now know why this mob is so famous and so hard to beat.
This lego set is a really detailed lego version of the Ender Dragon and the end where its health crystals are on top of huge obsidian towers. With this lego set, kids can recreate the epic end fight with the ender dragon and fight it with their imagination. This Minecraft set also has a character with potions and ender pearls in there. With that, it also has the fireball that the ender dragon shoots while fighting it. And, the dragon in the lego set actually shoots the fireball which is really cool.
This will make the imaginary fight even more intense. The best thing about this lego set is that you can use any parts of this lego set in other official lego sets which means, you can mix up any other lego sets with this one and make an even more detailed fight scene that includes a dragon. It just depends on the kids on how far they want to go.
So, if you are trying to get this item for someone who loves this game, it would be a really cool item as building up items with lego really helps kids to enhance their imagination and make stuff that hasn't been made yet with lego. So, if you ask me, I would definitely recommend this item as something to gift a kid who appreciates Minecraft.
Here's why you should get the Enderman And Creeper Plushies
Brand
LEGO
Color
Unspecified
Material
Unspecified
Dimension
5 x 9 x 3 inches
Weight
0.013 ounces
Features
– Features The End
– Dragon That Actually Fires
– Works with any official Lego Build
– Potions and Ender Pearl Included
– And more…
Rating
5 (9000+ – Amazon)
Minecraft Square Plastic Mug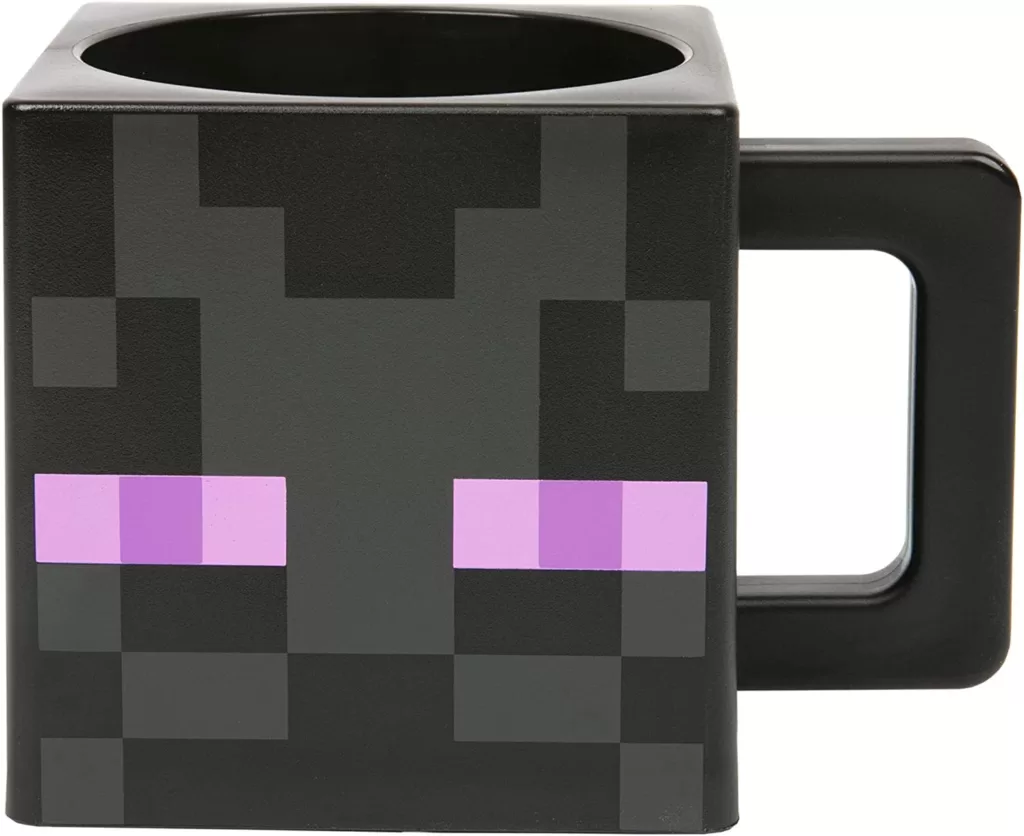 A mug is something we use every day. Everyone has a favorite mug that is designed just like he wants. People draw and write different things related to their choice on their favorite mug. And, this mug is something that every Minecrafter would like. This is a square mug made out of plastic and it has an Enderman head design on it. So, I don't see any reason for a Minecraft player not to like it. This mug has the signature classic Minecraft square design with an Enderman face on the front and the Minecraft logo on the back. It is made out of BPA-free plastic and it is a 3.5 inches mug. It can hold liquid of up to 9.8 ounces.
If you want to buy this item as a gift, then this item is really good for you. It comes in a custom package which is ideal for both collectors and perfect as a gift for friends, family and other Minecraft players. The really cool part about this item is that it is officially licensed by Minecraft which gives it a real source of trust. So, you don't have to worry about the quality or anything. You can buy it without any issues.
This item is really great for both kids and adults. It is made out of thick plastic which makes it really hard to break. So, you don't have to worry about your kid slamming it on the floor. It's plastic, not ceramic or glass. Good plastic is also really good for insulation. So, if you want to drink something hot like hot chocolate or coffee, it is definitely recommended for you. Though it is really thick, it isn't that heavy at all. It's only 180 kilograms which means kids can easily carry around their favorite mug without any issues of it falling from their hand. This item has really positive ratings on its amazon page which show if it's going to be good enough or not. The rest is on you if you want to buy it or not.
Here's why you should get the Enderman Mug
Brand
JINX
Color
Black
Material
Plastic
Dimension
5 x 5 x 5 inches
Weight
180 grams
Features
– Thick Plastic
– Great design
– Really Lightweight
– Perfect for a Minecraft player
– And more…
Rating
4.5 (600+ – Amazon)
Minecraft Transforming Sword and Pickaxe
Well, we already talked about the Disguise Minecraft Diamond Sword Earlier and saw why Minecraft player would love it. But, how about a Minecraft Diamond sword that turns into a Diamond pickaxe or the other way?? Yeah, that's right, a sword that literally turns into a pickaxe. We already know that with a sword, kids can enjoy Minecraft in real life. But, with this item, they can play mining with other kids and enjoy their time more. Now, you won't have to buy an extra pickaxe for your child. Both the sword and the pickaxe come as one.
Well, to start talking about this item, it is really big. The manufacturers say that it's so big that it literally feels like a real sword when held in hand. And, it is really hard. It's so hard that your kids can even go over it and nothing will happen to it. It functions really well for a long time and they go on without any massive damage on it. Scratches are normal on toys like this so we should ignore that. Also, the transforming mechanism on this item is really clever which really brings joy to the play and amuses children when they play with it.
One thing to look after is that the plastic is so hard that hitting someone can cause some damage to them. So, people should keep an eye out on this thing before they hand it out to their child. Kids can easily switch from the pickaxe to the sword which makes it really fun to play with as they don't have to go through any trouble to switch it from a pickaxe to a sword. It's definitely recommendable to kids who love this game.
Here's why you should get the Transforming Sword / Pickaxe as a Gift
Brand
Minecraft
Color
Multicolor
Material
Plastic
Dimension
1.38 x 12.4 x 17.32 inches
Weight
1 Pound
Features
– Hard Plastic
– Easy to switch
– Unique Transforming Mechanism
– Hard Destroy
– And more…
Rating
5 (4300+ – Amazon)
Dream Merchandise
Dream merchandise isn't something that people want or some merchandise that is one's dream. The Dream merchandise is basically a merchandise company owned by the popular and one of the biggest Minecraft YouTuber called Dream. If you are a Minecraft player and you don't know about Dream, you are missing a whole lot of Minecraft. Basically, Dream is a video creator on youtube who especially uploads manhunt videos on his channels.
In a nutshell, manhunt basically is someone trying to beat the game and other people are trying to stop him from beating the game. And in this case, the person trying to beat the game is Dream. He has to fight through multiple people before beating the game. This makes his videos really intense and enjoyable. People literally love to watch his videos. He gained over 10 million subscribers in 2020 and is still growing so fast that he has one of the fastest-growing youtube channels in the world. So, if you don't know who Dream is, you should go on youtube and see his videos.
So, it is pretty normal that the person you want to gift to knows about Dream. And that's why gifting that person any of the merchandise of Dream can make him happy. Besides that, the quality of his Shirts and hoodies are really good. So, if that person doesn't have any idea about Drean, he still can wear them. It's kind of a win-win situation. So, if you are ready to get some clothing or any other things from Dream's official merchandise website, I guess now is the perfect time to do so.
Here's why you should get the Dream Merchandise
Brand
Dream
Color
Unspecified
Material
Unspecified
Dimension
Unspecified
Weight
Unspecified
Features
– Comfortable Clothing
– Really Great Quality
– Huge variants in products
– And more…
Minecraft Creeper Backpack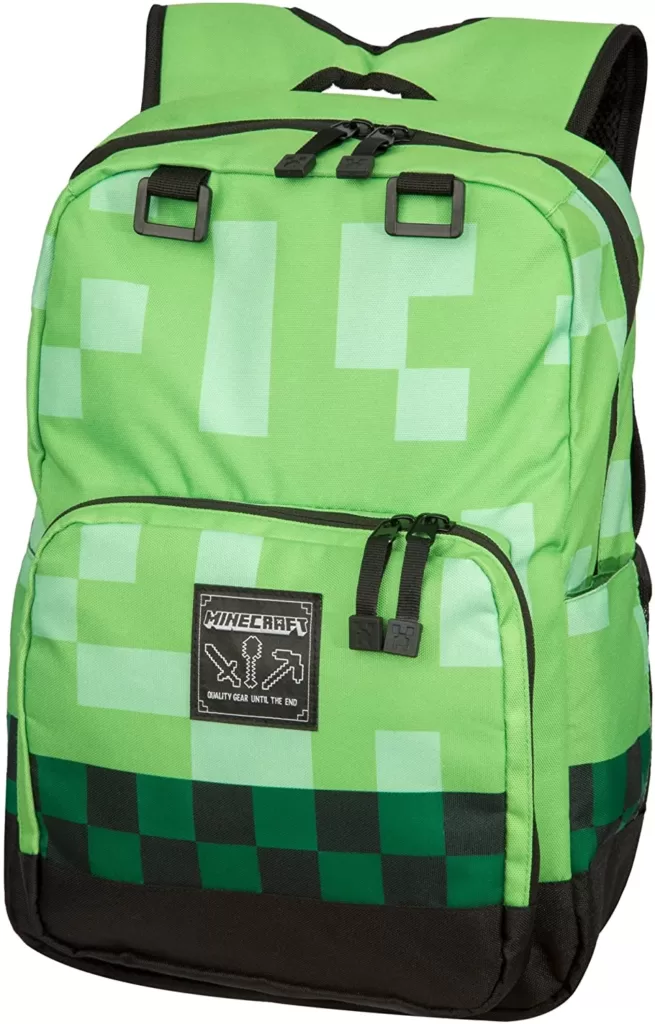 Minecraft is such a game that kids literally love because this game doesn't mostly contain any kind of aggressive stuff. That's one big reason why Minecraft is so famous among kids. So, if you gift a kid who plays Minecraft something related to Minecraft, he will definitely love it. And, a backpack is one of the things that a kid loves to have his favorite things on. I saw many kids that drew the things they love on their boring backpacks. This both made the backpack look good and made them happy. So, gifting a kid a backpack related to Minecraft, in this case, a creeper backpack is definitely a good choice.
This backpack is manufactured by JINX. So, just like the other item, this backpack is also licensed by Minecraft. This backpack is approximately 18 inches tall and 13 inches in width which makes it perfect for both kids and adults. Also, it is made out of 100% polyester which makes it really durable. With that, it has adjustable straps and the backside of this bag is padded. This will ensure extra comfort while using it. The main compartment of this backpack has a laptop pocket, a front compartment that has four separate pockets, plush secured zipper pockets to take small fragile items in it. The exterior has gear clips, side pockets, and Minecraft accents that really bring joy to the carrier. The backpack is also perfect for school books, blinders, laptops, and toys which you or your kid can carry around without worrying about them breaking.
As expected, this backpack is exactly what is shown on amazon. The materials of the backpack are the best quality. With that, the bag has a lot of space inside. This way, you can carry a lot of items in your bag. Some people say that the details on the backpack are better than they had expected. So, it is always something to look after if you end up buying this backpack.
Here's why you should get the Creeper Minecraft Backpack
Brand
JINX
Color
Unspecified
Material
Polyester
Dimension
17.32 x 14.57 x 3.94 inches
Weight
0.96 Ounces
Features
– Officially Rated By Minecraft
– 100% Polyester
– Huge Space inside
– Durable And Stylish
– And more…
Rating
4.5 (1200+ Ratings – Amazon)
Minecraft Lunch Kit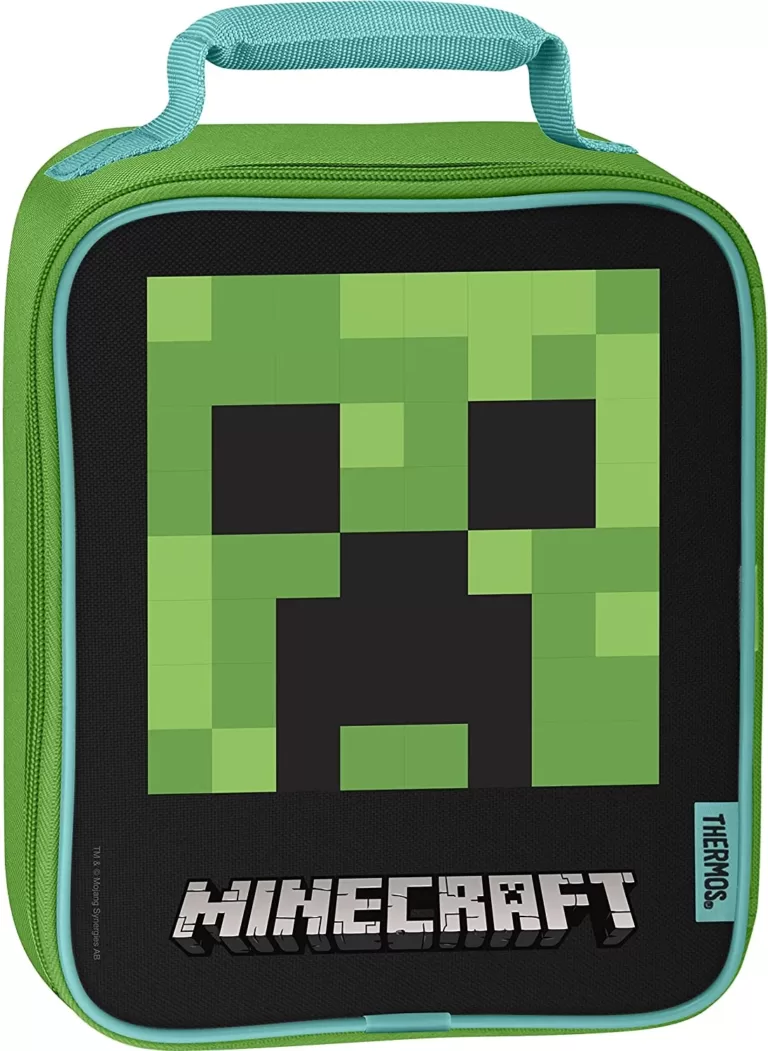 Well, just like the backpack, we already know that kids love to have drawings or graphics on stuff they use every day. And, a tiffin box or Lunch kit is one of those items that they use every day in school. So, we can say that kids are attached to this item all the time. That's why I think gifting a Minecraft lunch box to a kid might be a small thing but something that is really loveable. Not only that, a Lunch kit is really useful.
It can reduce waste and save money by letting the food be packed into a reusable box. Also, this tiffin box looks really cool and stays cool. It has high-quality cell foam insulation which keeps your food warm even if you open it after some time. With that, it has an easy-to-clean interior which makes it even easier for parents to handle. And, the padded handle makes it really comfortable to carry around.
So, personally, I think that this item is really good for a kid as he/she goes to school every day and this item is used every day by them. If they use it every day, why not swap the design and keep the same thing so that they don't get bored of the same thing every day?? Well, that's upon you to choose. We are just here to show you the items you want to gift them.
Here's why you should get the Minecraft Lunch Kit
Brand
THERMOS
Color
Minecraft
Material
PVC Free
Dimension
3.5 x 9.5 x 7.5 inches
Weight
3.2 ounces
Features
– Cool looking design
– Keeps food warm or cold
– Zipper chain to access the food easily
– Comfortable Carrying handle
– And more…
Rating
4.5 (1600+ Ratings – Amazon)
Conclusion
So, that was it for today's Minecraft gift ideas for both adults and kids. Hope you really liked it and found the perfect gift. Be sure to let me know. Also, if you think any more items should be added to this list, always feel free to contact me as I love to hear from you guys. As always, take care and goodbye!
Read More – 9 Useful Gamer Gift Ideas