In this digital world, the number of people playing video games is increasing every day. Almost every family has member who loves games or practice is a gamer. In 2018, almost 66 percent people in the US were a gamer and the number is expected to increase in 2021. That's why; it isn't unusual to have a gamer-minded person in your family. So, assuming there's a gamer in your family to who you want to gift, this is one of the many gift guides for you, and let's see the best gamer gift ideas that will be really good for them.
For a gamer, a good and useful gift is really going to affect the relationship between you and that person. Because, most gamers are kind of introverts and if not, they like to stay alone to spend some time of their own. That's why; they play video games a lot. So, if you can gift them something they like, your relationship can get really stronger.
There are different types of gamers like PC, retro, console, and mobile gamers. But, there are some items that all kinds of gamers love. And, we have handpicked the best items for your beloved one. So, let's see the items, and let's see what you can gift that person to make his day. Also, some gift cards can help a gamer to buy the cosmetics a gamer needs.
How to find the perfect gifts for your gamer friends?
Here is a list of the perfect gift list that a gamer needs:
As a gamer, I do know what things I need to make my gaming performance better or top-notch. And, these things are really important if you want to have a better gaming performance. That's why; I have a list of what things a gamer typically needs.
Gaming Headset
Gaming Mouse
Good Monitor
Decent PC
Gaming Chair
Mechanical Keyboard
These are some of the most important things that are perfect as gifts for gamers and these are it is something gamer needs to make his performance better. If you want, you can give a gamer some awesome gifts or you can follow the list of gifts below that I have.
With that, an Xbox game pass ultimate is also a good gift for a gamer. Xbox game pass ultimate is really good for an Xbox gamer.
Top 9 Gamer Gift Ideas
Gaming PC
Gaming Chair
A good chair is the most important thing that a gamer needs to make him comfortable while playing games. Basically, a gamer plays games for a long time and so, he has to sit in a fixed spot for that whole time. That's why some people get pain in their back which ruins the whole day. So, a gaming chair is pretty essential for a gamer that plays games for a long time.
Basically, a good gaming chair that fits you perfectly and that allows you to sit comfortably is really good for your health. A good gaming chair allows better blood flow to your lower body parts which relieves your joints and muscles. This way, you don't feel bad after you get up from your chair after a long time. A good gaming chair also provides proper support to your lumbar and pelvic which helps you to stretch your back muscles. This way, you won't feel the problems that you feel for your muscles not stretching for a long time.
So, a good gaming chair is pretty important for a gamer. That's why I have a gaming chair here that will really help in these terms and it will let that person have a pretty good gaming experience. It's called the RESPAWN 110 Racing Style Gaming Chair.
Let's see why this chair is the best in these terms:
Brand
RESPAWN
Color
White, Black, blue, Forest Camo, Green, Grey, Pink, Purple, Red
Material
Faux Leather
Dimension
28.5 x 28 x 51.5 inches
Weight
51.81 Pounds
Features
– Gamified Seating
– Ergonomic Comfort
– 4D Adjustability
– Supports Up to 250 pounds
– Premium and Comfortable Quality
– And More…
Rating
4.5 (18000+ – Amazon)
VR Headset
We all know about VR Headset and what it is. But, for those people who don't know what it is, a virtual reality headset is a head-mounted device that provides projection-like reality virtually. Virtual Reality Headsets or VR Headsets are mostly used for playing games but they can also be used in some different tasks. Nowadays, the reputation of VR is spreading really fast and a Virtual Reality Headset can really give a unique feeling to the user.
Having a VR Headset is a dream for a gamer and almost every gamer wants to try out a VR Headset. That's why; having a VR Headset can make someone really happy. People can play different types of games in a VR Headset. VR Headsets is a game-changer in the world of gaming. So, it is on the bucket list of every gamer.
There are a huge amount of choices for VR Headsets that you can choose for the person you want to gift to. But, all the headsets found are not that good and can easily get ruined after use. So, you must buy one that won't perish after small use.
The VR Headset that we are showing today is the Oculus Quest 2 which is one of the most rated VR Headsets on Amazon. This headset is really famous among different gamers for its quality. It has next-level hardware integrated. It has a blazingly fast processor and the highest display resolution. Also, you can attend a virtual concert and also watch movies with this headset. Pretty cool huh! This set also comes with two touch controllers which are going to be really helpful in terms of experiencing everything.
Here's why this headphone is perfect for a gamer:
Brand
Oculus
Color
White
Material
Undefined
Dimension
16.3 x 7.72 x 5
Weight
1.83 pounds
Features
– Highest Quality
– Superfast Performance
– Great quality
– Integrated Touch controllers
– And More…
Rating
4.5 (18000+ – Amazon)
Gaming Keyboard
A good gaming keyboard is really essential for those who play a lot of PC games. A good keyboard can decide whether your game is going to be good or bad. There is a lot of important stuff that defines which keyboard is good and which one isn't. And, a good keyboard decides if you'll have a good game or not.
In a Mechanical Keyboard, you can press the keys faster than a non-mechanical keyboard. A non-mechanical keyboard cannot register clicks if they are too fast. This is the normal scene of a gamer. They click the keyboard a lot faster. That's why; most gamers with a non-mechanical keyboard can't perform better. If you have a mechanical keyboard, it will result in a good response time which will give you good results in-game.
Also, mechanical keyboards don't have the issue of ghosting. Basically, ghosting is an issue that is caused when you press multiple keys together on the keyboard. When you press multiple keys, the PC cannot register all of the keypresses. This is a really big issue in a lot of the keyboards. Luckily, gaming keyboards don't have this issue. So, you won't face any kind of ghosting issues while playing games.
The keyboard that we have here is called the FLAGPOWER Gaming Keyboard which comes with a free mouse. This keyboard has a 3 colors changeable backlit. This gives a premium look on the keyboard. This is a really easy keyboard to setup. And the mouse also. Just plug the in and start using. You won't have to install any kind of software to use it.
Gaming wireless keyboards are also good but they can sometimes cause response time issues. So, I didn't mention gaming keyboards here.
Here's why this keyboard is perfect as a gift for a gamer:
Brand
FLAGPOWER
Color
White, Black
Material
Undefined
Dimension
17.17 x 5 x 0.59 inches
Weight
1.2 Pounds
Features
– Fastest Response
– No Ghosting
– RGB Backlit
– Easy to setup
– Free Gaming Mouse in the Package
– And More…
Rating
4.5 (3000+ – Amazon)
Nintendo Switch Pro Controller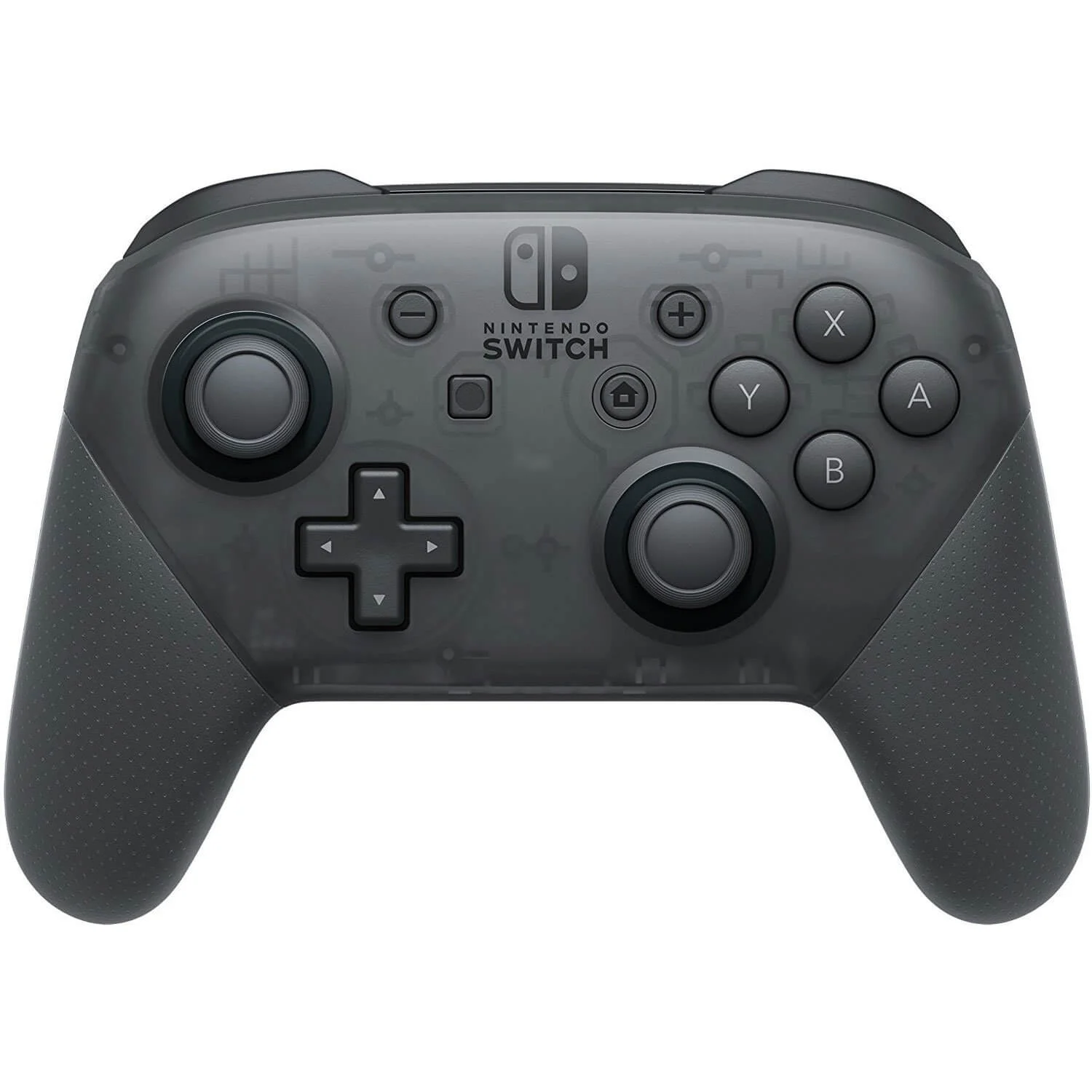 We all know what a Nintendo Switch or Nintendo Switch lite or Nintendo Switch online is. It is a system that is a miniaturized version of a console. With this device, you can play your favorite games on the go. It has a dock that you can use to connect it to joy-cons and other stuff.
Nintendo has been really famous among console players. Nintendo has a variety of games like retro video games, classic games, arcade games, and more supported in their console which was really good for gamers at that time. In 1985, when Nintendo released Super Mario Bros, they got the pace. They were one of the most successful video game developer companies back then. And, that's the pace that they were able to hold. In 2017, Nintendo released the Nintendo Switch game console. And just like that, the pace of the Nintendo switch started. It sold 17+ consoles and hundreds of games in 2018-2018. It was so famous among gamers because it was a console that you could take and go anywhere. You can play games on the go without facing any issues.
When you buy a Nintendo switch, you will have 2 side-mounted joy-cons that you can use as regular controllers. But, there are some people that don't like it and want to play in it with a real controller. For those people, a Nintendo Switch Pro controller will be really helpful. This controller is officially released by Nintendo and people all around the world use this thing. This item is #1 in the Nintendo switch category. So, yeah it is good.
People really love the battery health of this controller. It lasts up to 30+ hours of continuous use. That's a long time. Most gamers don't even play games for more than 10 hours (some do). And, people say that the build quality, texture, and everything is better than other PS4 and Xbox controllers. So, I think it is worth giving a try.
Here's why, this controller will be good for a switch player:
Brand
Nintendo
Color
Black, Xenoblade Chronicles 2
Material
Undefined
Dimension
2.52 x 6.14 x 5.67
Weight
14.08 Ounces
Features
– Insane battery life
– Easy to set up and use
– Strong Build Quality
– And more… (Everything is good)
Rating
4.5 (32000+ Ratings – Amazon)
Gaming Mouse
A gaming mouse is as important as a gaming keyboard. If you don't have a mouse that is capable of registering every move you make, you won't do well. A mouse that can register every move precisely and that has a faster response time can result in giving you a good performance. A regular mouse has a response time of 4-6ms where a gaming mouse has a 1ms response time. This might not look like a lot and some people don't even see the difference. But, a gamer can feel that something is wrong. That's why a mouse with a faster response time is really important for top-notch gaming performance and results.
But, some people might say that a mouse is a mouse. That's true. Generally, a gaming mouse and a regular mouse don't have any kind of difference. Except for the fact that they are more precise and accurate and have a faster response time. A gaming mouse does not necessarily give any more advantage rather than this. But, gaming mouse has a lot of buttons around them. This is what helps gamers in massively multiplayer online games like call of duty, PUBG, Fortnite, Apex Legends, etc.
That's why; today's mouse is the Razer Death Adder V2 Gaming Mouse. Though, by its look, it doesn't look like a gaming mouse. A gaming mouse generally has some kind of funky stuff. But, this mouse looks like a normal mouse while it is a gaming mouse. The best fact about this mouse is that it has 20000 dpi. This really changes the perspective of intense multiplayer online games. And, like other gaming mice, this mouse has 8 programmable extra buttons. This way, you can set those buttons to do anything you want in-game.
Here's why this mouse is really good and a perfect gift for gamers:
Brand
RAZER
Color
Classic Black
Material
Undefined
Dimension
2.87 x 5 x 1.69 inches
Weight
82 grams
Features
– Smooth experience
– 8 Programmable Buttons
– 20000 Max DPI
– Lightweight
– Fastest Sensor In the Market
– And More…
Rating
4.5 (29000+ Ratings – Amazon)
Gaming Headset
A gaming headset is really important for multiplayer online games. When playing multiplayer online games, an enemy can easily sneak up to you and give you a surprise. That's why a good headphone is important. With a good headset, you can hear every detail in the game. So, you will have a good response in-game and you will be able to play the game better.
Gaming headset will take you deep in the sounds of the game and it will give you clear audio. This will also prevent the audio from going through the microphone of the headset if you're using it. Basically, the purpose of a gaming headset is to give you proper and private sound in your ear. That's why most people prefer all-platform gaming headsets over other headsets.
The headphone we have here today is the Razer BlackShark V2 Pro. This headphone is also considered the best headphone in the gaming community yet (2020-2021 January). This headphone is really lightweight. And, it is extremely comfortable. So, you won't feel the weight on your head at all. The microphone and the speaker quality are great. So, you will have top-notch quality while talking and listening in-game.
Here's why, this headphone is considered as one of the best:
Brand
RAZER
Color
Black
Material
Undefined
Dimension
6.5 x 3.94 x 7.88 inches
Weight
1.62 pounds
Features
– Lightweight
– Great Audio Quality
– Super Comfortable
– Detachable Mic
– And more…
Rating
4.5 (3400+ Ratings – Amazon)
Gaming PC
Well, a good PC is a must to play video games. Without a good PC, you can't enjoy the high-quality popular video games and get a top-notch gaming experience. It will be laggy, low quality, and many other things. You won't have a good experience while playing video games. Though this item is a little out of budget, it is still great to gift someone a gaming PC. It would make that person really happy.
To run high-quality video games, you need better hardware support so that your game doesn't lag and you can play games better than usual. But, not all of us can afford a gaming pc because it costs a lot. But, to get that top-notch gaming experience, we all dream of having a gaming PC.
A gaming PC generally means a really powerful computer. This computer will consist of high-end latest hardware like a powerful processor, a graphics card, a good amount of ram, and more. It's not something like you can only play games and nothing else. It's just a really powerful computer that you can run games really smoothly as well as everything else.
So, with that out of the question, let's talk more about gifting a gaming PC. Well, gifting a gaming pc will cost a lot. It depends on the budget. You will get different kinds of hardware under different budgets. And, buying a prebuilt one isn't always a bad idea. But, there's some chance that you can have some more in that budget than getting a prebuilt one.
Here's why a gaming PC is perfect as a gift:
Brand
No Specific Brand
Color
No Specific Color
Material
No Specific Material
Dimension
No Specific Dimension
Weight
No Specific Weight
Features
– High quality
– Smooth Experience
– No lag
– Recommended as a gift for those who play in an laggy pc
– And more…
Rating
No Specific Rating
Gaming Mousepad
A gaming mousepad might not be a really great item to gift, but it is really helpful for a gamer that doesn't have a dedicated gaming table. With that, it could really change the way that a person plays video games. With a good gaming mousepad, a gamer can get the top-notch experience that the mouse can provide.
Gaming Mousepads are specifically designed to let you make quick movements that can benefit you in a lot of ways. The long-sized gaming mousepads are mostly known among gamers. A long-sized gaming mousepad lets you do a complete cycle without taking off your mouse. Sometimes, we have to take our mouse and position it because it reaches the end of the mousepad. This harms the gaming experience a lot. That's why these mousepads are famous.
With these types of mousepads, you can complete a full cycle of mouse movement actions without taking it off. It will help you and improve your gaming experience in a lot of ways. There are a lot of varieties of long gaming mousepads that are standard cloth mousepads, hard plastic mousepads, and even metal pads for something heavy.
Today, we have the Corsair MM300 mousepad which is a really good choice and has sold thousands of pieces. You will get really good control over what you do with this mousepad. It has a textile weave surface that will get you pixel-precise targeting and low friction tracking. This mousepad is really durable. The edges are surrounded by stitches that make it really durable. Now, most people face issues with the new mouse types called laser mice. This mouse can't run very well in all the mousepads. Luckily, this mousepad is perfect for laser sensor mouse as well as optical sensor mice. So, you won't have to worry about it not working perfectly with your mouse. And, it has a rubber base which makes it really stable when you are moving the mouse faster.
Here's why this gaming mousepad is a great choice as a gamer gift ideas:
Brand
Corsair
Color
Multicolor
Material
Undefined
Dimension
36.6 x 11.8 x 0.1 inches
Weight
1 Pounds
Benefits
– Smooth
– Accurate and Precise Control
– Strongly stitched for maximum durability
– Works in both Optical and Laser Mouse
– And more…
Rating
5 Star (21000+ – Amazon)
Gaming Laptop
Going with its name, gaming laptops are not especially for gaming. These are heavy devices that are made to do a lot of heavy works like graphics, video editing, etc. Gaming laptops are made to take the weight. They work really well immense heat and immense pressure because they have really good air circulation. But, a gaming PC is always better because it is a PC.
People who travel around a lot usually need these types of laptops. This way, they can play games on the go or even do work while they are traveling. So, they won't have to rely on their PC. They can just travel and continue their work. Gaming laptops also have simplified gaming keyboards. Now, just because it is named gaming keyboard doesn't mean it is only for gamers. People from all backgrounds like audio professionals, animators, Graphics editors, programmers, and everyone can use them. So, if that special person doesn't do gaming all the time, this will still be a perfect device. But, as a laptop, it will cost a lot.
That's why, keeping this in mind, today we have the Razer blade 15 Gaming laptop. This is considered one of the best gaming laptops out there. That's because this laptop has really high-end hardware in it. With a Core-i7, it has 16GB RAM, 512GB SSD, and NVIDIA GeForce RTX2060 and it has a 1080P full HD 144Hz monitor. These are not the latest hardware out there; these are really good considering their price.
Here's why, this Razer Blade 15 Gaming Laptop is a good choice as a gift:
Brand
Razer
Color
Multicolor
Material
CNC Aluminum (Body)
Dimension
13.98 x 0.78 x 9.25 Inches
Weight
4.69 Pounds
Benefits
– Fastest Experience
– Smooth Keyboard
– High-End Hardware
– 1080p FHD 144Hz Display
– And More… (A lot to consider)
Rating
5 Star (21000+ – Amazon)
Final Thoughts
The items that we have here in this list will help a gamer one way or another. I hope you liked this gaming gift guide. So, if you want to gift someone something from this list, it is always better to see other items related to them before choosing as we don't ensure that there isn't a better one in the market than the items in this list. But, if you want, you can always use these items in this list to gift the person you want to. I hope the gift recipient really likes his gift.