Pokemon is one of the biggest franchises in the world. The fame of Pokemon has been around for over 20 years and it still holds its place. Pokemon started as a series of video games developed by Game Freak which was published by Nintendo under the Pokémon Company. All of these were under the Pokémon media franchise. Today, we are going to talk about some pokemon gift ideas for some diehard pokemon fans or lovers. But before that, let me tell you a little bit more about Pokemon.
In these 20 years, Pokemon evolved from only video game to a TV series, movies, and trading cards and in much other merchandise. There are a bunch of well-known and famous characters like Pikachu, Mew and Charizard.
This game and series is famous in all age range. This game still has fame among gamers and millions of players still play this game. So, if you have a friend or a family member who loves Pokemon and you want to buy gift for that person, well you're in the right place.
Today, we are going to look at the best Pokemon gifts for your special person. These gifts are handpicked and people really love these items as a gift. So, without wasting any more time, let's see some Pokemon gift ideas.
9 Best Pokemon Gift Ideas
You can get different items as a Pokemon related gift. A lot of everyday used items can be found in Pokemon version. And, the popularity of these everyday used items is a lot. So, the choices are huge of what to gift someone. But to me, the best ones are:
Nintendo Switch Pocket Controller – Poké Ball Plus
If the kid you want to give a gift to loves playing Pokemon, then this will be the best one to gift. Why you may ask?? Well, that's because this is an official controller Nintendo made especially for this game. We all know that Nintendo keeps bringing newer updates to this game till today and millions of people play it all around the world. And, this controller was officially made from Nintendo to play this game easily.
This is a controller that looks like a Poké ball and there is a joystick in the middle. After you've connected that to your switch, you use that to move around in the game and do other stuff. And, this one also plays sound related to the current state of the game. And, it lights up. Isn't that cool?? You'll feel like a real Pokemon trainer with this controller.
Like generally, isn't it better to play a game with the item that was meant for it?? It'll have all of the features to make the game easy and fun to play. That's why, Nintendo officially made this one to make their game even fun. And, this is another reason it is on the top of our list today. But, that doesn't mean the other ones aren't bad. All of them are the best if you can find the best one.
Let's take a look at why this is the best one and why people like it so much:
Brand
Nintendo
Color
Red and white
Material
Un defined
Dimension
2.84 x 2.84 x 4.06 inches
Weight
0.32 Pounds
Features and Benefits
– Good Grip
– Easy to use
– Better in-game performance
– High-quality materials used
– Plays audio according to in-game state
– Vibrates
Rating
4.5 (4700+ Ratings – Amazon)
Pokemon Beanie Hat
As a Pokemon lover, I know how cute the Pokemon Pikachu is. He is one of the cutest and most famous Pokemon's in the game and series. And, people love the stuff that is related to this creature. Just like this beanie hat. The Pikachu look on this hat makes it look really cute when put on. Besides that, it is really cozy and kids really love it.
Not only does it look great, but it also gets the job done. According to some people who bought this, kids stay really cozy and love this one because of its cute look. And, those kids who love Pokemon will love this beanie hat.
Some kids get obsessed with it and even wear it in summer. Yes, it is actually true. That's how kids love this one. This one is not only for kids. Adults can also wear this one and it would suit them perfectly. But, some dudes look like a big fat baby. Literally, that's how cute it is.
The product didn't have much in its description. I just talked about the ratings that people put on this product. There are some bad ratings saying that the hat is easy to rip off by kids and it falls apart in a few days. Though it is something made out of wool type of material to keep you warm, they should've used something that is hard and so that kids cannot rip it apart. But still, it looks really cute and kids love it a lot.
Let's take a look at why this is the best one and why people like it so much:
Brand
Bioworld
Color
Yellow
Material
Un defined
Dimension
9 x 9 x 13 inches
Weight
1 Pounds
Features and Benefits
– Comfortable
– Perfect for all sizes
– Colorful
– Looks Cute
– Keeps you warm
Rating
4.5 (1500+ Ratings – Amazon)
Pikachu Plush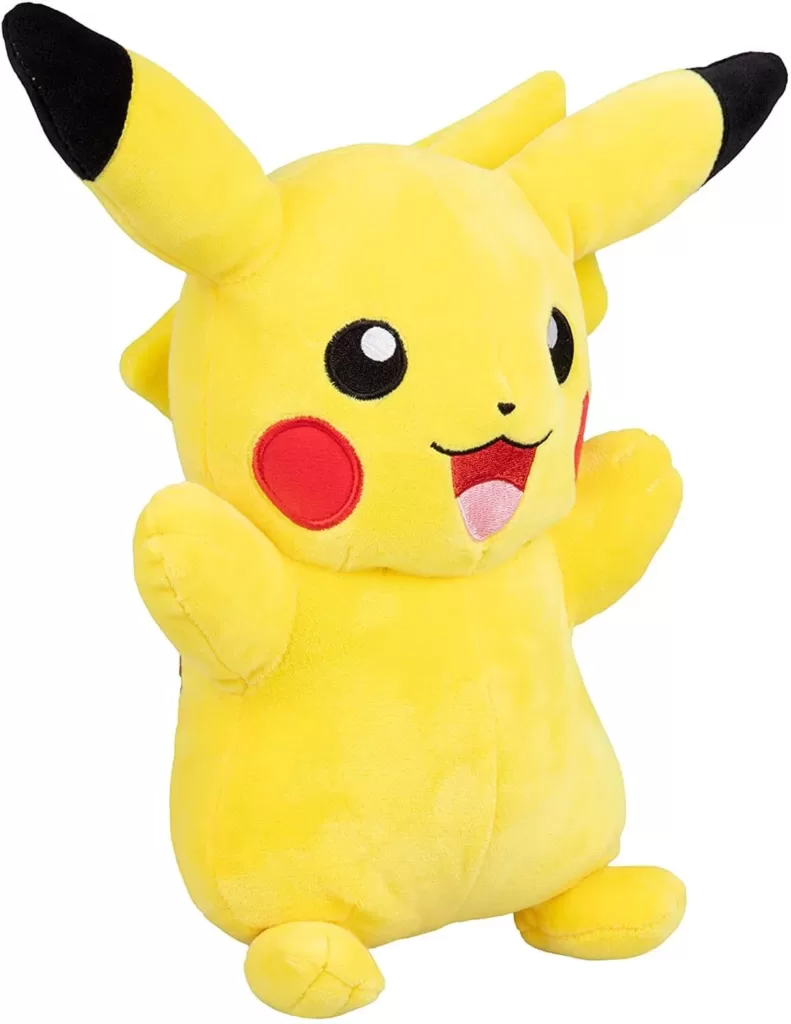 We all know Pikachu as the cutest and one of the most popular Pokemon in all of the franchise. He looks so cute that kids love anything related to this Pokemon. Just like the beanie hat that I just talked about, this plush is also really famous among kids. One thing is that kids love to sleep with plush which gives them a perfect and cozy sleep. And, for someone who loves Pokemon especially Pikachu, this one is going to be one of the greatest gifts for them.
For kids and adults who love Pokemon, a gift related to Pokemon makes them really happy. This 12" Pikachu plush is kind of a must have for Pokemon fans. It is super soft and you can take it wherever you go. You can bring a smile on anybody's face with this cute little Pikachu plush. It is 12 inches tall and as I said, I think it is a must have for all those who are crazy Pokimon fans. This plush is also an Amazon's Choice plush with 5 star rating. So, I think it won't disappoint you.
Beware of the matter that some people has been received some plush that don't exactly look like a Pikachu and some of them were smaller. But, other's said it was in perfect shape. I don't really know what happened here but I think it was a manufacturer end issue and they should work on that. But, besides that, this one is a cute little plush and perfect for a Pokemon fan gift.
Let's take a look at why this is the best one and why people like it so much:
Brand
WICKED COOL TOYS, LLC
Color
Original Pikachu Color
Material
Plush
Dimension
4.5 x 7 x 11 inches
Weight
0.5 Pounds
Features and Benefits
– Really cute
– Comfortable
– Durable and sturdy
– Super soft
– You can take it anywhere you want
Rating
5 (1500+ Ratings – Amazon)
Pokemon Bag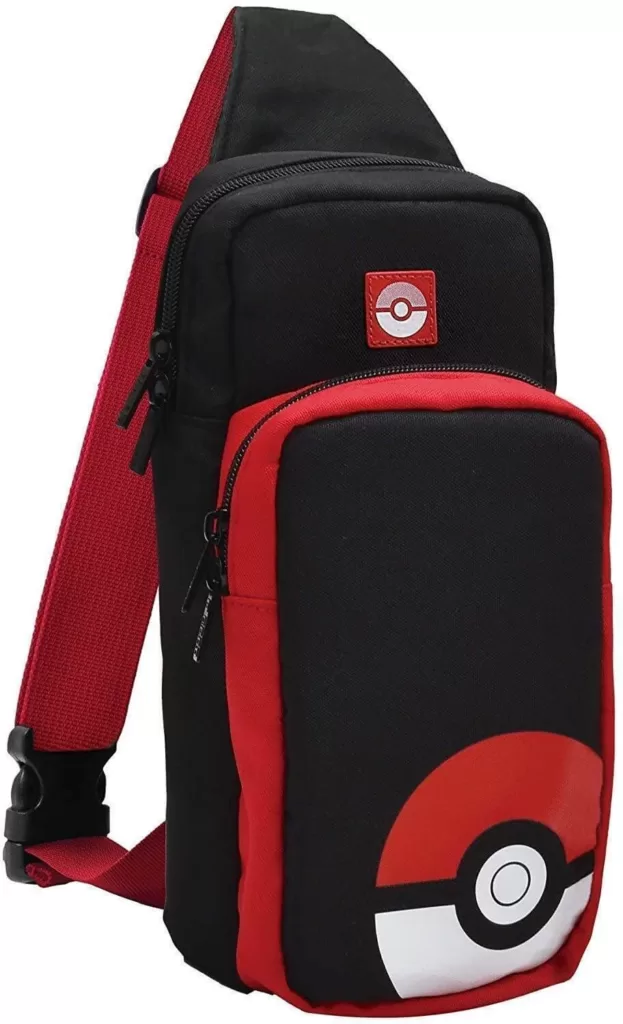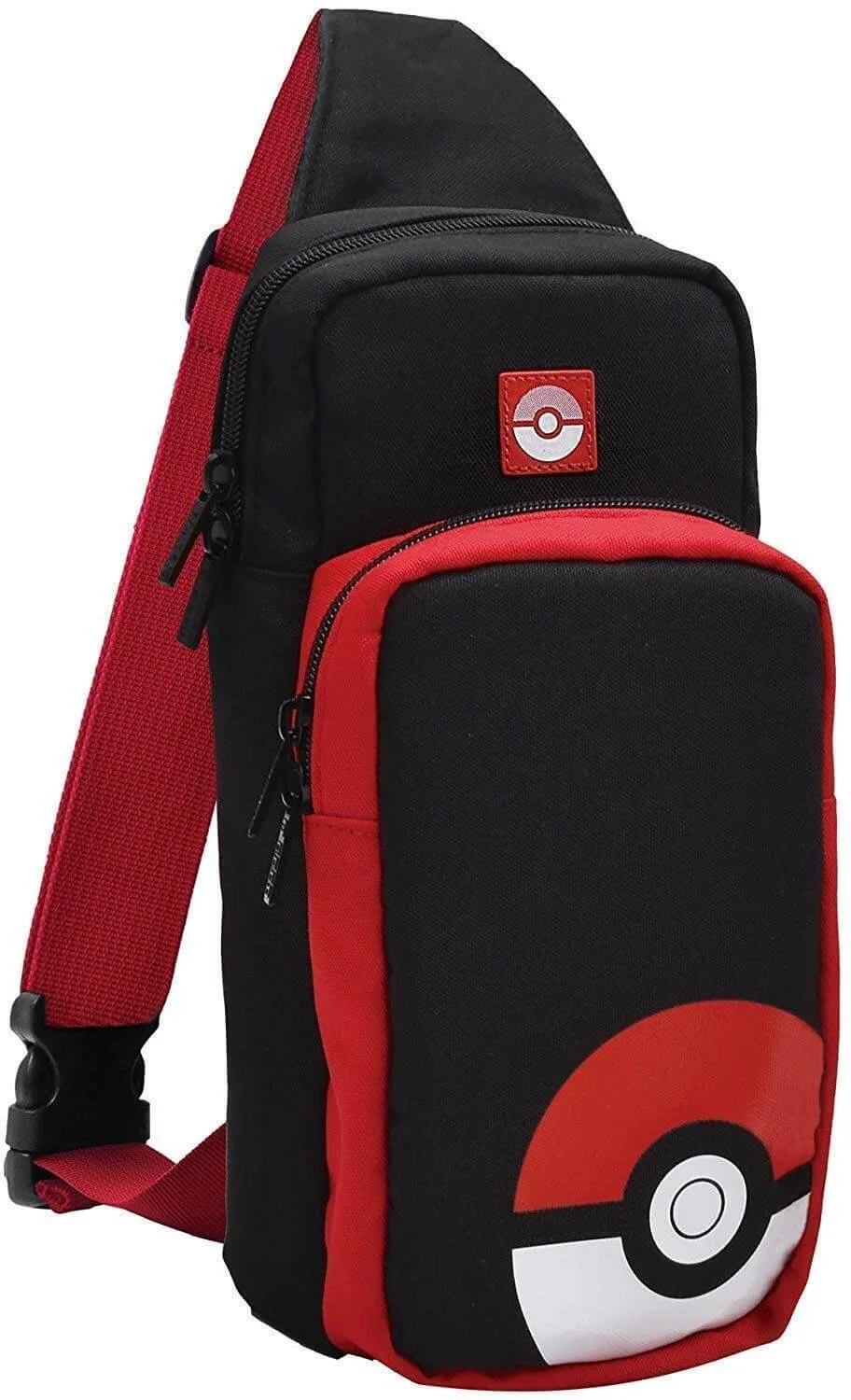 This bag is for those who love to travel around and don't find enough space in their bag to carry their Nintendo switch and its loads of accessories. There are a lot of accessories related to Pokemon and people buy them a lot. Some people buy all of them. That's why; they don't find enough space in their backpack to carry around these accessories and their switches.
And this is where this backpack comes in. This backpack is specially made for carrying Nintendo accessories. You can fit the controller, console, games, and different accessories in this bag. And, this bag is also Pokemon related. With this bag, you'll be able to take your gaming set wherever you want to go. It's build to keep all of your game accessories in one place and you can take anything to get top quality switch console experience.
Your console, the dock, charger and everything will be safe in this backpack. So, if you are going on a hillside everything will be safe in this backpack. You won't have to worry at all.
"You can use it to store a battery bank, the switch (in its diablo soft case), joy con straps, Bluetooth adapter, charger and cable. The back of it has the neat thick backpack material (the net soft pad that's usually seen in high end laptop cases), it has an inside pocket on the large compartment which is made of soft-suede-like material so you can store the switch without a slim case if needed without worries of scratches. The front small pocket fits the whole dock or an Anker battery pack." said a user.
Let's take a look at why this is the best one and why people like it so much:
Brand
HORI
Color
Black and Red
Material
Undefined
Dimension
5.91 x 3.94 x 13.39
Weight
0.5 Pounds
Features and Benefits
– Safe To keep everything
– All essential accessories can be carried
– Comfortable padded shoulder strap
– Officially Licensed By Nintendo
– Available in Pikachu color for Pikachu Lovers
Rating
5 (1600+ Ratings – Amazon) – Amazon's Choice
Pokemon Bluetooth Speaker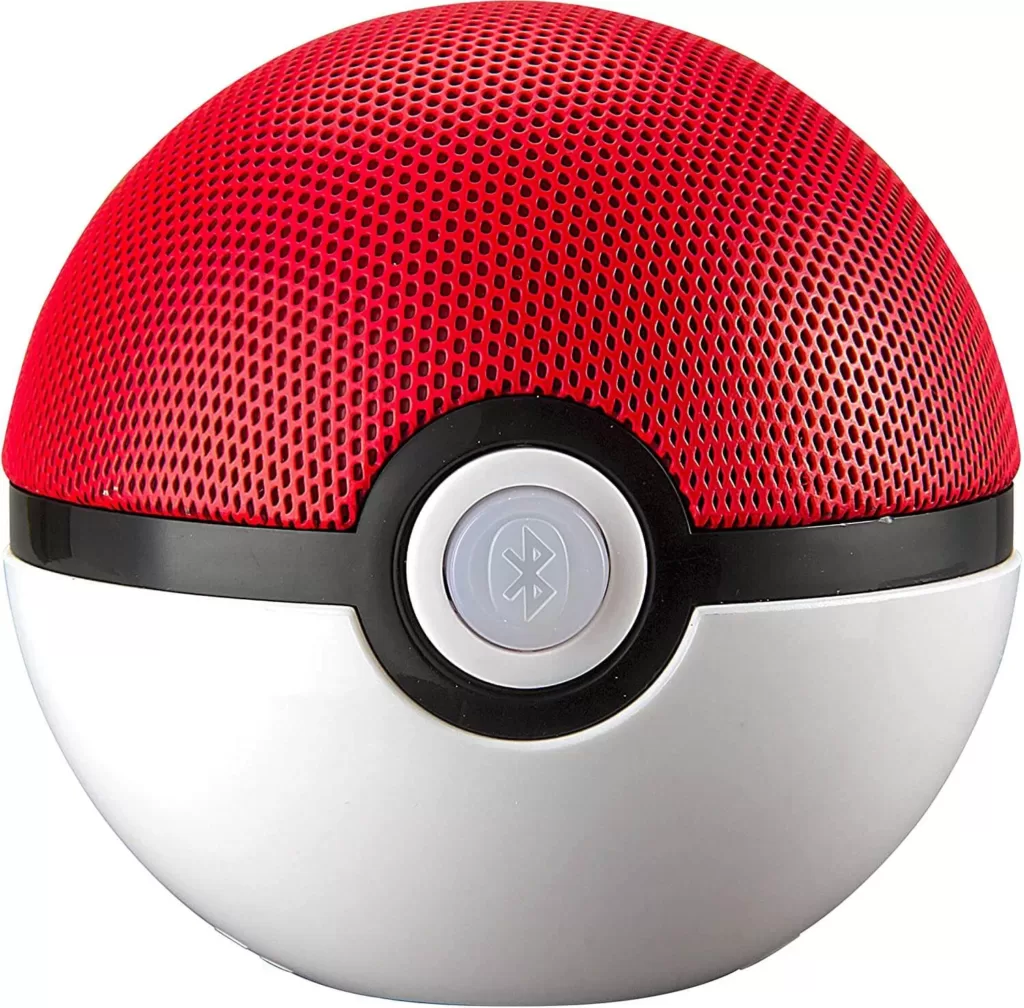 If you want to give a gift to someone who is a fan of listening to music and loves Pokemon, then this one will be perfect for that person. This is a Bluetooth speaker in a Poke ball design.
This speaker isn't that big and has a great design. You can say that it is a 'pocket-size' speaker. And, it is a product of the well-known manufacturer iHome. So, it is really good. It doesn't have the best audio quality, of course as it isn't made for high quality audio purpose. But, is has the regular audio quality. And, the design is amazingly beautiful, seamless and nice.
As it is a 'pocket-size' speaker, you can take it anywhere you want. And, as it is a Bluetooth speaker, you won't have any problem in using it. You won't even have to carry extra cables for it. And, you can just buy some batteries to get to it work again. It isn't the loudest but it is the best for solo music hearing and for those people who love to hear music in a mild volume all alone.
It isn't hard to use at all. You just have to click the button on the speaker, connect it to your phone and play the music. So, kids can actually easily use this app without any problem. So, it is a perfect gift for people of all ages.
Let's check out why people love it as much:
Brand
KIDDesigns, Inc
Color
Multi
Material
Undefined
Dimension
5.5 x 2.5 x 6.5 inches
Weight
0.5 Pounds
Features and Benefits
– Easy to use
– Easy to carry
– Enough Sound for Solo Hearing
– Good Price
– Perfect for all Ages
Rating
4.5 (100+ Ratings – Amazon)
Pokemon Go Eevee 3D Night Light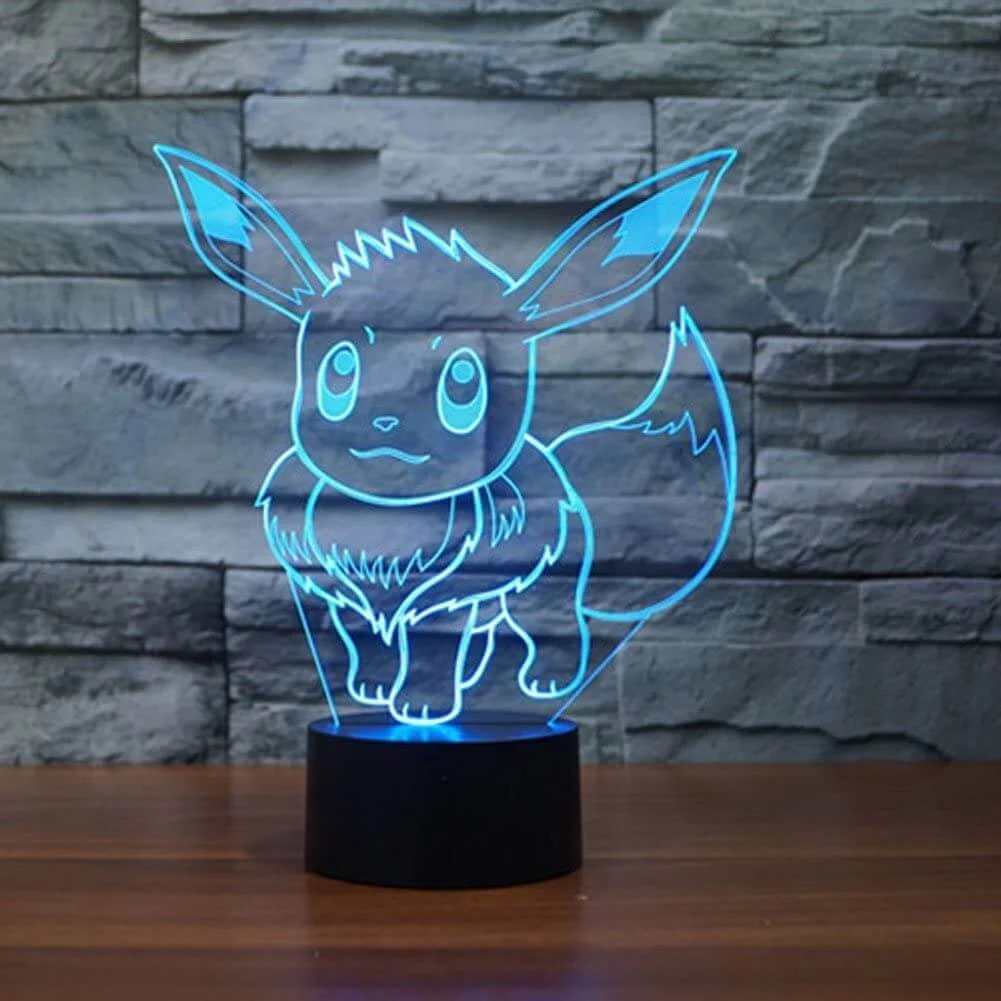 This night light is like a cute lamp that will light up your room at night. It looks like a 3D light when seen from an angle. This will keep your room enlightened and ensure a peaceful sleep. This lamp also works as a décor making your room beautiful.
When turned on, this one will look like the cute Pokemon Eevee. That's why, it is in this list. But, this one will be a good gift for both a Pokemon lover and a general person because it looks so cute.
This lamp is available in 7 colors. So, you can have it in any of your favorite colors. After buying it, you'll just have to plug it in and click on the button to turn it on. This lamp also has an auto color changing mode. After you turn that on, it will automatically change the color from time to time. The colors are really bright and it will really light up your room. But, it won't hurt your eyes at all which is the good thing.
This lamp is really easy to assemble. You just have to put the base and the glass together. That's it. And, the cable is given in the package. So, you won't have to pay extra for your cable. And, the paper comes off easily. Some people said that they had to soak the paper 4-5 minutes to make the paper come off but other than that, this lamp doesn't have any issue. But, the main issue comes while shipping. Some people's lamps were delivered broken but they got a replacement pretty quickly. So, they didn't face any problem.
Let's see why this one is one of the best ones:
Brand
3D Light
Color
7
Material
Undefined
Dimension
6.9 x 2.2 x 9.8 inches
Weight
0.37 Pounds
Features and Benefits
– Multiple Color
– Automatic Color Change Feature
– Makes room very lit
– Has a 3D look
– No Battery (Plug in and use)
Rating
4.5 (700+ Ratings – Amazon)
Charmander Coin Bank
To be honest, kids don't like to save money. The money they save in some days gets wasted in moments because they lose their patience. But, some kids at least try to save money. But, they can't because they grow impatient. That's why; some parents give them a coin bank to save their money for times when they can spend that in a good deed. With a coin bank, they both can save tons of money and they can even get a habit of saving money for their entire life.
As for a Pokemon lover kid, if he decides that he loves that pokemon coin bank, he will surely try to interact with the coin bank. And, by interacting, I mean putting a coin in to touch it as he is a little kid. This way, he can easily build up the habit of saving money.
This coin bank is a Charmander pokemon coin bank. This guy looks so cute and shiny that it actually looks like a chocolate. The detail on this thing is amazing and it attracts kids a lot. So, your kid will try to interact with it at least once a day. And, kids love this adorable coin bank. That's why; I think it will be a really good gift for Pokemon crazy kids.
Let's see the reasons why you should buy it:
Brand
Pokemon
Color
Regular
Material
Ceramic
Dimension
9.6 x 9.4 x 7 inches
Weight
1.5 Pounds
Features and Benefits
– Attractive
– Great detailing
– Average Size
– Works good as a décor
Rating
5 (200+ Ratings – Amazon)
Pikachu Hooded Towel
Hooded towel is actually really famous among kids as they are really cool when it is on. And, it dries kids faster than usual towels. You can just throw it on kids, wrap around them and they will be dry in no time. That's why it is so popular. The super-soft texture of this towel and high-quality cotton keeps kids really warm and dries them faster after a shower with the highly absorbent materials. With a fun and cute design, both the kids and parents will love it at home, beach, or pool. Your child can also use it as a bathrobe and it can also be used as a washcloth. The pockets in this towel make it handy to use.
If it is dirty, you can just throw it in a washing machine and dryer without worrying that the quality will be ruined. It's large enough to for growing toddlers between the ages of 3-7. This towel is also available in different cartoon styles like paw patrol, PJ Masks and more. So, definitely check those out if you don't like this Pikachu style.
Let's check out why it is the most selling towel in the Kids' Bath Towels category:
Manufacturer
Franco
Color
Different
Material
Cotton
Dimension
50 x 24 x 0.25 inches
Weight
Almost 1 Pound
Features and Benefits
– Attractive
– Keeps Kids Warm
– Dries Kids Faster
– Machine Washable
– Easy Care
Rating
5 (8300+ Ratings – Amazon)
Pokemon Belt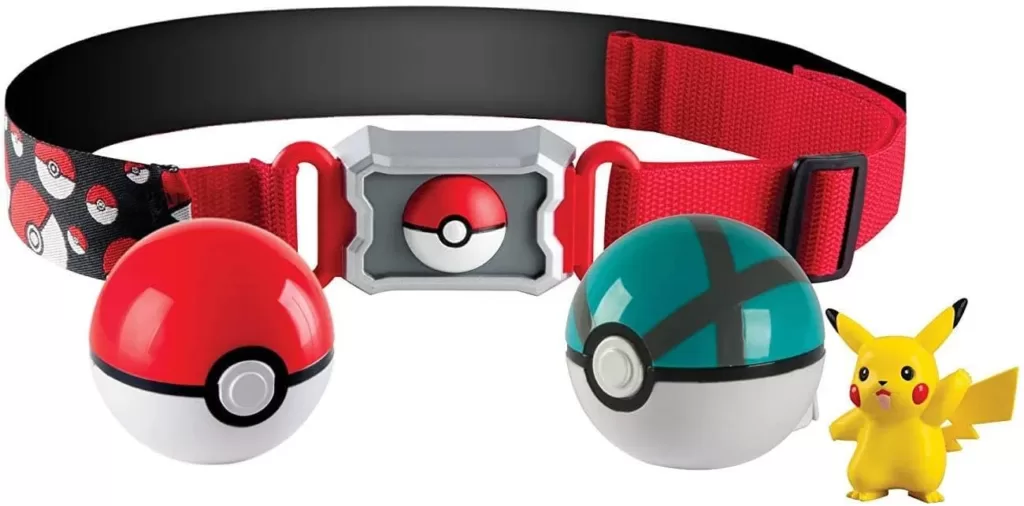 Pokemon lover kids love to play around with Pokemon stuff. And, pokeballs usually are on top of the list. Kids love to use Pokeballs to play with and this belt is actually cool looking. You can set the ball in the middle part and bring it out to summon your Pokemon whenever you want. The fun part is that two extra balls are added with the belt. (according to manufacturer)
This Pokemon Clip is used to hold on Poke Balls when kids play with them. With this belt, kids can look like a real professional Pokemon Trainer. While playing, kids can carry their Poke Balls around and it looks super cool when they put it on. This way, kids can go around and play without losing their Pokeballs which are not big objects. Belt can be adjusted with Velcro strap. On the tightest setting it still fit a little loose on a 50lb 7 yr old kid. Belt is very nice looking. Pokeball is a good size but a little harder to snap open and close. Pikachu fits inside with room to spare. you can probably fit two pikachus in there. Green ball is empty. Balls clip on the wider section of the belt (that has pokeballs print on it). Overall it's a nice belt for my son's costume.
There is nothing much to say about this product. It's just a cool belt that your child can play with. That'a all.
Now, let's see the details about this product:
Manufacturer
TOMY
Color
1
Material
Undefined
Dimension
8 x 3 x 10 inches
Weight
0.67 Pounds
Features and Benefits
– Beautiful
– Can carry multiple balls
– Safe with kids up to 4 years old
– One Pokeball Free
– Perfect addition
Rating
4.5 (3000+ Ratings – Amazon)
So, these were the products that will be the best according to me for someone who loves Pokemon. So, if you want to gift someone a product of this list, be sure to let me know if that person liked that product or not. As always, take care and goodbye!