If you've ever thought about taking up hiking or backpacking you know that it can be an expensive hobby, especially if you want to take your time and explore the wilderness. Finding the right gear can be tricky, though. Fortunately, you can find some awesome survival gifts for hikers here, and you can even buy them online! What are the best survival gifts you can give to someone who's always on the go? If you're looking for the perfect survival gift ideas, you'll want to check out these.
Every year, millions of new hikers decide to take on one of the more difficult trails around, like the Appalachian Trail, the Pacific Crest Trail, or the Continental Divide Trail. These are some of the toughest hiking trails in the world. These trails will not only test your physical fitness, they will test your mental fortitude. There are no guarantees when you set out on the trail, no matter how good of a hiker you are. But there are some things you can do to help yourself along the way, and many of these are simple gifts that you can easily find either in your local area or online.
Hikers are known to love survivalist products but are often unsure what items they should buy, or if they should buy any at all. Also, these products that we are going to talk about here are not only for hikers. So, if you want to buy some gifts for other people, you can do that too. But before we start today's article, please read through the item you really like as it will make it easier for you to choose a gift. And that being said, let's get started.
8 Survival Gift Ideas
Wool Blanket
Hammock
Personal Water Filter
Water Flask
Sleeping Bag
Emergency Whistle
Binocular
Bear Protection
Wool Blanket
Everyone loves to go camping, whether it's to escape the city or to escape their own problems. Camping is a great way to enjoy the outdoors and spend time with friends and family. However, there are often certain things that you need to take with you when you go camping, and one of the most important is a good camping blanket. No matter what kind of outdoor enthusiast you are or how much you enjoy being out in the great outdoors, you should have one essential piece of gear above all other things that you have to have.
And that is good quality, warm, comfortable, wool blanket. That's because this single piece of warm and comfortable cloth can make a massive difference if you are in a bad position and you have to spend the night in the cold forest or mountain or wherever you went. And keeping a blanket might make the difference between life and death.
This Olive Drab Green Warm Wool Fire Retardant Blanket is a warm and cozy blanket that can be used in an emergency. The wool will keep you warm and help you sleep well in the cold and in the dark. So it will help you survive a lot when needed. This soft, wool blanket is fireproof, water-resistant, and can be used as a throw. The blanket is also both fire and mosquito-resistant. It has a Waterproof Water-Repellent Treatment applied to it.
It is very comfortable and can be slept under in cold weather which makes it great for camping, hiking, hunting, fishing, and other outdoor activities. The back of the blanket is waterproof and can be used as a "towel". The blanket measures 60 inches across the top and 60 inches along the sides. This blanket weighs 8 ounces (1.8 lbs.) and is made in the USA. These are the reasons that I think this blanket will be a really handy item to keep with you when you go fishing or hiking or do other stuff in the wilderness.
Color
Olive Green
Fabric
80% Wool
Benefits
– Fireproof
– Water-Resistant
– Mosquito Resistant
– Great to capture temperature
– Keeps the user warm at night
– Can be used as a towel
Hammock
Are you looking for a cool gift that will be appreciated by the outdoors person in the family? Look no further, a hammock is a simple yet useful piece of camping equipment that will be used in all different situations. They come in a wide range of sizes and styles, making them great gifts for a variety of occasions. If you've never camped before or you've always thought they were for people with more money than they know what to do with, you may be surprised to discover how easy it can be to find a portable hammock that's perfect for camping. They are also really useful because they are really lightweight, take no space, and are really easy to set up. This makes it super useful and a must-have item to keep with you wherever you go camping.
Designed to last many seasons, the Kootek Camping Hammock is made with heavy-duty nylon to withstand the weather. All hammocks are coated with a robust, UV-resistant coating. The frames are reinforced with steel rods. The double hammock weighs 2.6 pounds and the single hammock weighs 1.7 pounds. These durable hammocks are designed to provide a comfortable spot for resting and relaxation. It has a hanging loop on the hammock and has a convenient pouch. These hammocks are for people who are looking for unique gifts that might be useful for outdoor survival. This is why this item can turn out to be really useful when needed.
Brand
Kootek
Color
Black and Grey
Material
Nylon
Benefits
– Uv-resistant coating
– Lightweight and Portable
– Comfortable for resting and relaxation
– Pouch to store things
– Easy to set up and pack
Personal Water Filter
Water is the most essential thing that we need while camping or backpacking. We don't just mean drinking water, but also our bodies need water for essential functions. The main function of water is to cool our body temperature. Our body temperature rises while we are outside in the hot summer. This is why we need water to keep our temperature under control. One of the best gifts you can give to people on your gift list is something they can use to help them survive. An emergency water filter is an excellent gift for anyone on your gift list because it can be used in an emergency to save your life or your loved ones. It's important to have one on hand, especially if you live in an area with polluted water since it doesn't take long for bad water to make you sick.
This personal drinking water purifier will give you clean drinking water whenever needed. It is totally portable, and it is the lightest and most compact water purifier of its kind on the market. It uses a natural, ultra-fine, hollow fiber membrane to restrict contamination of water. You can get a total of 4000 liters of water purified if it is taken care of and maintained properly. When you hike and camp, it's important to be prepared for anything.
That's where this item comes in. The LifeStraw Personal Water Filter provides emergency access to safe drinking water whenever you need that. It will make sure that you are never dehydrated and will help you to keep your body running until you find help. This is a really useful item to have and is such an item that shouldn't give you any kinds of problems to keep it with you. I really recommend you to get it because it can become useful in times where all hope is lost.
Brand
LifeStraw
Color
Blue
Material
Plastic
Benefits
– Instantly purifies water
– Can purify 4000 Liters of water
– Kills 99.999999% waterborne bacteria
– Removes Microplastic from Water
– Portable and Can be carried everywhere
Water Flask
A water bottle is one of the most useful survival tools available, even if you are not planning to go camping. You never know when you might need a drink of water while out in the wilderness, and keeping a water bottle with you means that you always have something to quench your thirst. Also, if you keep a water bottle with you, and don't drink it, you can use it to conduct fire, use it as a primitive toilet, and for many other survival uses.
A water flask is one of the most useful survival tools you can keep in your pack or your car. You can rely on it to keep yourself warm, hydrated, and fed, even when you're in the wilderness. It's also a great gift idea for people who love camping or hiking. Even if you have a portable water filter with you, it is important to have totally clean, fresh, and cold water with you because that is the best and safest source of water as long as you have that. And relying on something like that is always the best thing to do. Luckily, we have our item here which is one of the best water flasks out there.
This Hydro Flask Water Bottle is a hand-blown vacuum-insulated bottle that keeps your liquids cold for 24 hours and hot for 12. Put it in your pack, or attach it to your bike, and it will stay near your hand whenever you need that cold water. It will keep the water in your bottle fresh and safe to drink whenever you want. It is also safe to clean in the dishwasher meaning you can clean it really fast and whenever you want making it really handy to use. The flask is made with 18/8 pro-grade stainless steel that ensures pure taste and no flavor transfer. These are the reasons that I think this item is really good as a gift.
Brand
Hydro Flask (Well Known)
Color
Multiple
Capacity
2 Pounds
Material
Alloy Steel
Benefits
– Can hold up to 2 pounds of water
– Keeps liquids cold for 24 hours and hot for 12 hours
– Made out of 18/8 pro-grade stainless steel
– Safe to clean in the dishwasher
– Easily transportable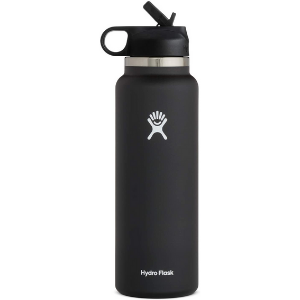 Sleeping Bag
When camping, everything can happen. The wind picks up, you end up in the middle of the desert, or your buddies decide to go skinny-dipping in the middle of the night—all of these scenarios can end up being extremely inconvenient, especially if you are waiting to get breakfast or if your tent is leaking. What should you do? A good sleeping bag is the first step to ensure your comfort. Honestly, camping is a great way for people to get away from city life and find some quiet relaxation. No matter if you are a seasoned camper or are just getting started, everyone needs a good sleeping bag to make your trip comfortable.
Not only do sleeping bags provide warmth, but they are also a great source of protection from the elements. The down filling used in the bag is actually very expensive, so make sure you pick one with a high fill-power rating. If you are camping outdoors, make sure the bag is lightweight so you won't be too exhausted to sleep. For cold weather camping, you can choose a bag with a lower fill-power rating to keep the temperatures inside the bag to a minimum.
The Go Time Gear Life Bivy Emergency Sleeping Bag is an easy way to keep warm in an emergency. It is made of breathable, non-toxic 1.2 oz. Ripstop Nylon and 30D Nylon, so it will keep you warm. The bag has a drawstring closure to keep the air in the bag, so you'll stay warm even if the air outside is too cold for you to be outside. It has a zipper closure, so you can adjust the size to fit. This is an emergency bivy bag that is meant to be used by one person in an emergency situation.
It is meant to be used to provide some level of protection from the elements while sleeping. This is a great gift idea for those who love to head out on hikes and adventures. This 3 season sleeping bag will keep you warm and dry as the temperature drops. It is a really good item for anyone to survive a cold night in the wilderness and I really recommend this item as a gift.
Brand
Go Time Gear
Material
Nylon
Color
Orange
Benefits
– Non-Toxic and Breathable
– Keeps the user warm inside
– Lightweight and portable
– Tear and Puncture resistant
– Protects against rain, wind, and snow
Emergency Whistle
When we think about outdoor survival, the first thing that comes to mind is the whistles themselves, which are essential to communicating with others in the wilderness. Whistles are different from other forms of communication since they are loud enough to be heard from a distance, are easy to carry, have a large selection of tunes, and are able to be used underwater.
When people get in trouble in the wilderness, they use the whistle to call for help or let people know that they are in trouble so that they can come and find them. Also, they use whistles to let people know of their location so that they don't lose track of each other. Honestly, whistles are one of the best items that you can have with you when you go hiking or camping and it is a must-have item. That's why gifting a whistle as a gift can be a really good choice for items as a gift.
LuxoGear Emergency Whistles are whistle kits for your car, home, and camp. They contain a container of emergency whistle mixture, a pouch of flint, and a striker for emergencies. These whistles are so loud they can be heard from miles away. These emergency whistles are built to last – they are made of high-strength plastic and stainless steel, last indefinitely on a lanyard, and are not affected by cold temperatures. They are really loud and really helpful when you get lost or you are in a really bad position. So, I highly recommend that you buy this item as a gift to someone that loves to go hiking or camping or go to places that may end up badly.
Brand
LuxoGear
Color
Orange
Benefits
– Super Loud
– Pealess Design
– Super Durable
– Adjustable Reflective Lanyard
Binocular
Binoculars are a must if you're going to set up a camp and spend a lot of time outdoors. They're a great way to make sure you see something important when you're hiking, fishing, hunting, or looking for wildlife. Plus, they're small and compact, making them easy to store and bring along with you. To be prepared for anything, you need to be able to see. That means having a pair of binoculars with you at all times.
There's nothing like a good pair of binoculars to see far and wide and take in your surroundings. Having a binocular with you will make sure that you don't get lost in the wilderness because if you do, you can always look where you want to go with that binocular making it easier for you to navigate. Having a binocular will also ensure that you are enjoying nature by watching animals closely without getting close to them.
This compact binocular is a great starter for those who are new to the hobby. It is equipped with a 21mm objective lens and a 12x25mm ocular lense. This binocular is a good choice for those who need a compact binocular with a wide field of view. It is a favorite among bird watchers, hunters, and campers. This binocular is a great companion for those who need a compact binocular without sacrificing quality or performance. With these compact binoculars, you'll be able to see clearly up to 12x farther away than with the human eye alone. Occer 12×25 Compact binoculars are great for taking on vacation or on camping trips! They can be used to view nature, sports, concerts, etc. They can also help you to find where you are and where you want to go which will help you if you get lost.
Brand
Occer
Materials
Plastic, Acrylonitrile Butadiene Styrene, Rubber
Benefits
– Compact High-Quality Binocular
– Can see up to 12x further away
– Durable and Life Waterproof
– Adjustable Eyecups
– Comfortable Grip
Bear Protection
You can't talk about camping or hiking without referencing bear attacks. It's the leading cause of bear fatalities in North America, and it happens to be the reason why many campers use bear bagging tactics. The bear protection you choose should protect you from bear attacks, hold you in place during bear attacks, and allow you to escape bear attacks. It should be lightweight, compact, and easily concealable. You should always try to be prepared and get yourself a bear repellent, and prepare yourself to get a lot of unwanted bears. With the U.S. experiencing an increase in the number of bear attacks on humans, it is more important than ever to protect yourself and your family from danger. Here on Survival Gift Ideas, we give you useful tips about bear repellents and how to be prepared to prevent any unnecessary bear attacks.
The Ultimate Protection Bear Spray with its powerful, high-volume stream of concentrated Capsaicinoids will instantly repel the largest, most aggressive animals. The ideal safety device for hikers, campers, hunters, fishermen, and other outdoor enthusiasts. This bear spray is an effective deterrent for dangerous, aggressive bear encounters. This is the highest concentration bear spray available anywhere. The spray contains 1.5% major capsaicinoids (the hottest ingredient known to man) and is three times more effective than any other brand. 
Brand
Personal Protection
Color
Green
Benefits
– Really Loud
– Accurate Protection
– OC Bear Safe Formula
– Empties in 9 Seconds
– Easy to use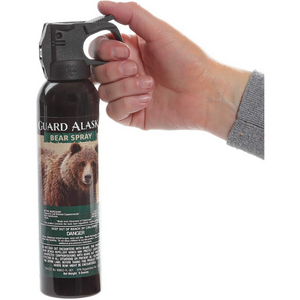 Read More