Kids can sometimes be really hard to understand. This affects the most when you try to buy a gift for them. If you can't get a good gift for a kid on his birthday, it can be hard to get him to like you. Also, giving gifts can be a way to teach him about gratitude, about being thankful for whatever they receive as a gift. This is why choosing good birthday gifts for kid boy. Also, giving a gift can be a really effective way to establish a connection with kids which will help you to create a healthy relationship with them. Giving gifts is also another way to show them how much you love them and how much you care about them. This will indeed help you create an even deeper relationship with a kid.
These are the reasons why I think that it is really important for you to choose a good gift for a kid. If you can do that, you can be sure that they will have a positive attitude towards you. This is most effective for the stepdads who want to become an important part of their kid's life. But, giving a gift and telling them how much you care about them will be most effective. It is always better to be straightforward with kids. If you are looking for a few gifts for your kid boy that you want to give him on his birthday, we will be helping you with that. So, without wasting any more time, let's jump into the article.
Birthday Gifts for Kid Boy
Crazy Forts
Lego Set
Plush
RC Vehicles
Drones
Soccer Goal
Crazy Forts – For Kids Who Love Building
If you don't know what crazy forts are, these are basically a building system where your kid can attach different items and turn them into buildings like forts, houses, etc. They can build anything they want with them and enjoy them with their friends. Kids love playing with this stuff. They can build anything they want and it is really easy to build so kids can enjoy them even more. When there are a bunch of kids building with this together, it gets more fun as they can build different things and connect them together to make a bigger structure. This is a really good item to gift a kid and kids love these a lot. That's why I think that it is worth gifting these to kids whether it's for Christmas or birthday.
Let's take a look at the 69 Pieces Purple Crazy Fort. This is a really enjoyable and easy to build one that kids love. You can build a lot of stuff like an igloo, pirate ship, castle, fort, house, etc. It just depends on your kid what he wants to build. This fort is also really durable and sturdy making it safe for kids to play with. It will ensure that kids don't break them while playing with them. Also, it is so easy to build that you don't even have to follow any directions. There are just a few rules which if you can teach your kid, he can build anything he wants.
This item is really good and enjoyable for kids and people who bought this item said that their kids love it. You just have to add a bedsheet in it after building and it will be ready to be used. Just invite his friends over and let them play in it.
Why should you get it?
As I said, this item is sturdy, durable, and portable. Its overall weight is about 4+ pounds which makes it easier to carry. The way that it is built makes it easier for your kid to start building. You don't have to follow a specific set of instructions to build with it. There are characters written on the balls which if you connect them, will create different shapes. It has everything you would need to make it enjoyable for your kids which is why I would definitely recommend you to get it as a gift for a kid on his birthday.
What people think
Pros
Sturdy
Extremely Easy To Build
Kids Fall in Love with It
Enough to build massive structures
Cons
Some People Think it has poor build quality
Some people think building isn't that simplified
Some think its not safe for kids
Note: People love this Crazy Fort and the "Cons" were written off of a few old reviews of this product so you shouldn't take them literally and check the book before you buy it.
Lego Set – For the boy who loves Lego
Lego has been a part of almost everyone's childhood. It is something that no one hates and is a really cool way to express your creativity and patience. Even adults love legos which explains why lego is such an important part of someone's childhood. Playing with lego benefits a lot by developing fine motor skills, strength in fingers, and developing dexterity. Nowadays, kids are seen with digital devices all the time swiping their fingers on these screens. That's why gifting a lego set can benefit a kid a lot. Also, before you buy a gift for a kid, I would recommend you to go with something that is really simple and they love. If the kid loves dinosaurs, you can get him the Lego Dinosaur Set. If he loves pokemon, get him a Pokemon lego set. There's a lego set for almost anything a kid can love.
Today, we will talk about the Beach House Lego Set. This lego set is a detailed Beach house party build that has cool details like a DJ rooftop terrace, snack bar, hammock, etc. This 444+ Pieces lego set is perfect for a kid who likes to make stories in their imagination. They can make a happy beachside story with this set and play with their friends. It is a great gift item if the kid you're gifting to has already played with lego before and needs something new to play with. It isn't that complicated of a build and it is a perfect item to keep your kids busy in something that will help them. This is why I think that this Beach House Lego Set can be a really good gift for a kid on his birthday.
Why should you get it?
Well, your kid might not be interested in this set and like to get something else. In that case, I would recommend you to get him something that he will love. But I recommended this one because it is something that every kid can enjoy and multiple of them can play with this one set. They can build different things of this set like the floors and then join those together to build a full build. This is why I think that this LEGO set can be a really good gift item for a kid on his birthday.
What people think
Pros
Simple Build
Detailed Build
Can be enjoyed by multiple kids
Kids can use it for imaginative roleplay
Cons
For some people, the problem was in shipping which says that there is almost nothing wrong with the whole set
It is recommended for kids under the age of 6 cause they can eat and choke on it which is bad for younger kids
Plush – Kids who love to Hug a Plushie While Sleeping
If we know a kid, we know how much they love stuffed animals. They like to always have one with them. Beth Tyson, a Psychotherapist and children's book author says that kids love stuffed animals so much because they offer a sense of safety, predictability, and comfort in a world that is uncertain and frightening to them. Also, after teaching children different things throughout the whole day, they want to have some personal time where they can do whatever they want. That is why kids play different characters like "mommy" or "daddy" which makes them feel in control giving them the mood boost they needed for a good night's sleep. Plushes are really good items that you can gift your kids that they will hold on to for a long time.
Let's take a look at the TeeTurtle plush. This is a multi-colored plushie that changes mood when it is turned over. The plushie is super cute and soft. It is also available in a lot of colors which will help you get the one the kid likes. But I personally love this green and redone as it meets the moods of the plush. The kids can also play different roles with this plushie because of its reversible feature. One moment, they can imagine a cute calm octopus talking and the other moment, they can play the part of an angry octopus. It's just really cute and kids love this plush. It can also be used for stress relief. The fabric is also safe and really soft. Just give your kid this one when they are crying and it may help calm down and express what they're feeling.
Why should you get it?
This is a high-quality reversible octopush plush. You can flip and push it on the other side to get a completely different design which is really cool. It is also made out of high-quality fabric making it really soft and smooth. This can also work as a stress relief toy making it perfect for kids with anxiety. The cuteness and softness of this plush make it perfect to give as a gift to a kid. Overall, I really like this gift, and kids who get this love it as well. This is why I think that this item will serve its purpose as a good gift for kids.
What people think
Pros
Really Cute
Soft Fabric as Promised
Works Really Good as Stress Reliever For both adults and kids
Cons
The fabric wasn't as good as promsied for a few people
The build quality wasn't as good as promised for a few people
RC Vehicles – For Kids Who Are Energetic and Loves Cars
If you know kids, you know how much they love RC vehicles. Kids are attracted to RC vehicles because they easily get attached to the experience. Controlling an RC car requires attention and you need to use your eyes and hands at the same time fast to control it. This increases kids' hand-eye coordination by a lot. Also, being able to control a device with only their hand is a big experience for her which makes it a really fun activity for kids. The speed, movement, controlling all these things make kids attracted to RC vehicles. These are the reason why kids enjoy RC vehicles so much.
Let's take a look at the RC Racing Car from Tecnock. This one is a huge and sturdy RC car that has a top speed of 20 km/h which is really good for an RC car. There are 2 batteries included and each of the batteries can run the car for about 30-40 minutes. This will make sure your kid can have fun for quite a long time. Even 40 minutes is a long time for a kid to enjoy an RC car. The plastic and electronic elements are non-toxic making them perfect for kids.
The material is also really sturdy making it crashworthiness. So even if your kid crashes the vehicle a lot, you don't have to worry about it breaking down that quick. It can take some hits before it finally goes down. The 2.4GHz controller makes it easier for your kid to control the remote control car making it easier to maneuver. Overall, this product is really good for a kid and I think that the person you're gifting to will love it as well.
Why Should You Get It?
This is a big, really strong remote control car that makes it perfect for your kid to enjoy. If he crashes it into walls or drops it from a height, it will be able to withstand the hit and run perfectly. This makes this remote control car perfect. Also, there are two batteries in this car and each of them provides about 40 minutes of a lifetime which is a long time for a kid. The 2.4 GHz controller makes it easier to control. Also, kids can race easily without remote confusion making it perfect for multiple kids to enjoy.
What people think
Pros
Top Speed 20 km/h
Made with non-toxic strong plastic
Easy to control
40 minutes support from each battery
Cons
Some people faced issues with the car not working properly after reciving which can happen because its an electric device
Drones – For the Kid Who likes Things that Fly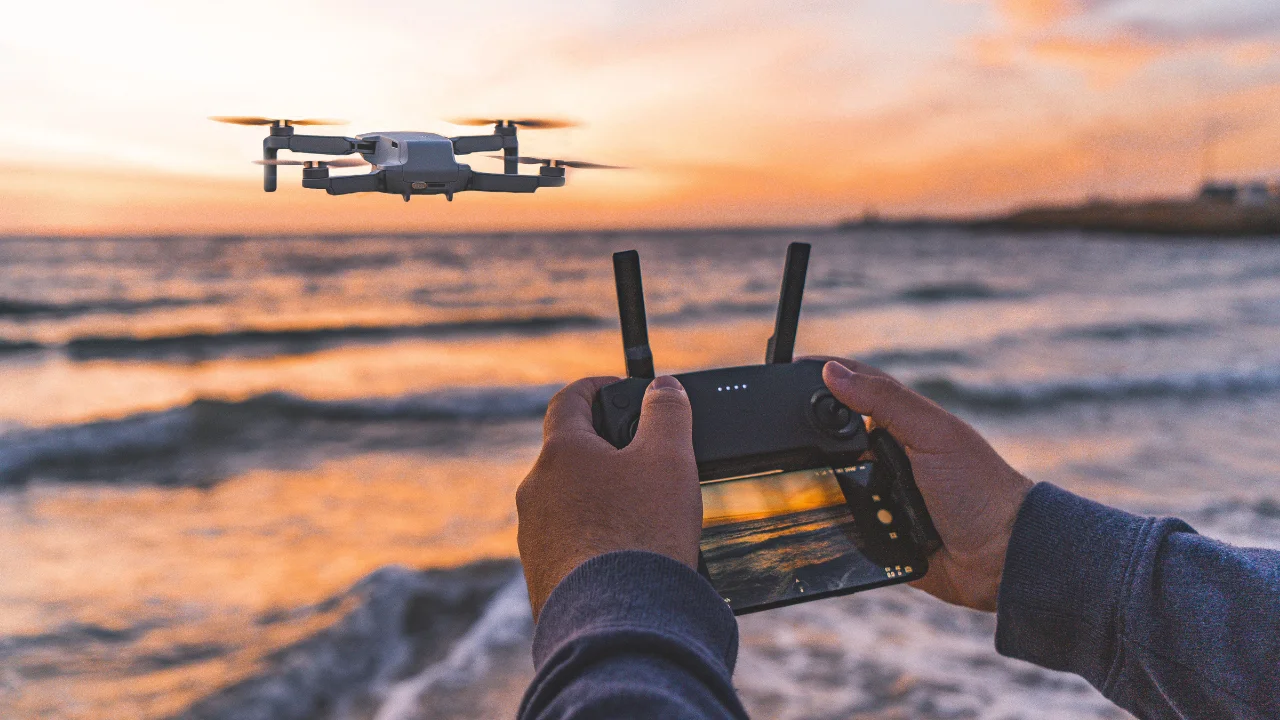 Drones are always interesting for kids. The fact that it flies makes their curiosity bigger than before. That's why kids are always interested in drones. Drones are used for a lot of stuff like photography and video making which explains why this industry is so big. Even without photography and stuff, flying a drone itself is really fun. Also, this industry is rising really fast and it will be even bigger in the future.
That is why, if your kid loves drones, you can just buy a simple one for him that can get him to fall in love with this giving him a headstart on the industry. If he wants to join this industry out of pure love, he will already have good skills and he will be able to do something that he loves. This is why I think gifting your kid a drone can be a really good idea.
Let's take a look at the Holy Stone Mini Drone for Kids. This is a mini drone that is designed especially for kids to give them a fun time while flying. This drone has some fun features like toss to launch, 3D flips, Auto Rotation, Circle Fly, etc. The speed is also adjustable making it even easier for kids to learn to fly it. You can also make it hover in one place which will make it easier for you to control. If you don't control it, it will keep hovering at one point. The battery gives a total of 21 minutes of flight time which is good for a drone.
Also, you can start and land this drone with one button click which will give your kid the most fun experience they can get from flying a drone. This drone is kind of automatic which makes it perfect for a kid. That is why I recommend you to get this item as a gift for a kid who loves drones.
Why should you buy it?
This drone is pretty much the best drone that you can get for your kid because of its advanced features that makes flying easier for kids. It has different features like toss to launch, 3d flips, auto-rotation, and circle fly that make them even better for flying. It is also safe for kids to fly because it has some protective material covering the fans that keep them safe when it impacts something. The battery also gives decent flight time. It also can automatically hover if it starts going too high up. After a specific height, it will start hovering. If you want to land it, you just have to click on one button and it will start landing itself. These are the reasons why I think that this drone is a really good item to gift a kid on his birthday.
What people think
Pros
21 Minutes Flight Time
Easy To fly
Auto-Hovering
Low Battery Alarm
Fun Tricks
Cons
As it is an electronic device, problems can occur to it while delivering or slightly after flying it.
Soccer Goal – For the Kid Who Loves to Paly Soccer
Soccer is one of the most popular sports in the world. People, as well as kids all around the world, love this game. It is fun, enjoyable, and energetic which makes it the favorite sport of a lot of people around the world. Just like adults, kids also love playing soccer and it is one of the best sports to improve children's social skills. Communication and cooperation are the two most important things for this game and whoever plays this game seriously develops a really good skill in both of these. That's why kids who play this game are usually energetic and can connect with people. If you have a kid in your family who loves playing soccer, a soccer goal can be a really good gift item for him.
Let's take a look at the Franklin Sports Blackhawk Backyard Soccer Goal for kids. This soccer goal is a really good high-quality soccer goal that is perfect for kids to practice in the backyard. This soccer goal is durable and water-resistant making it perfect for kids to practice soccer at home. The fiberglass and steel construction makes it really stable. Also, it has a tie-down ground stake that provides even more stability. The design of this soccer goal makes it easier to carry around and use anywhere you want. It is also decently big making it a perfect gift for a kid who loves the sport.
What people think
Pros
Very Strong and Sturdy
Extremely Stable
Decently Sized
Easy to Transport
Cons
For a few people, they received it in a state where it was really hard / impossible to assemble.
For a few people, the instructions weren't clear enough where they could easily assemble it.
Conclusion
As I always like to say, choose gifts that you think will be the best for the person. That's because I do not know that person as you do. That's why there might be an item in this list that the receiver does not like. I am here to give you an idea of what items you can give as a gift to different occasions like this birthday gift for kid boy. So, before choosing an item as a gift, make sure that the receiver will like them. As always, thanks for sticking with us at the end of the article, and see you soon.
Read More